Beth Martin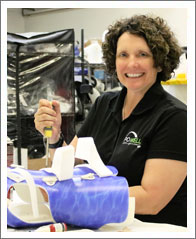 Certified Orthotist, ABC
After spending 8 years in the U.S. Air Force as an Intelligence analyst and 7 years managing an IT department for a Fortune 500 company in Chicago, I opted to quit my office job and make a career change that focuses on helping people make a difference in their lives. Over the last 10 years I have had the privilege of taking care of many patients; one of the hardest consequences about relocating to Virginia was leaving them. Though I was sad to leave Chicago, I'm very much excited about meeting new people and bringing the skills and experience I learned in Chicago here to Richmond. 
Joined POWELL: 2015
Why I love working here: I want to work for a company that really cares about the patients and treat them like family. Powell is truly a dream come true for me with state of the art technology and great co-workers who work together as a team to ensure patients are well taken care of is an important facet for me.
Passionate about: I am very passionate about making a difference in people's lives. Rarely do patients want to wear braces but with the right attitude and determination my job can help people get back to living a normal life. I'm a huge Pittsburgh Steelers and Penn State (my alma mater) Football fan. When I'm not at work I enjoy playing pool, BBQ's and spending time with friends and family.