Scott Campbell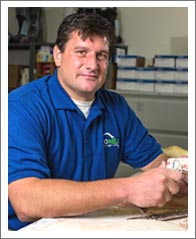 Certified Pedorthist, ABC
I entered the field of pedorthics working for my father in-law at his New Balance stores, and when they sent me for my training, I had found my calling. I have found my home at POWELL.  I'm able to utilize products ranging from Over The Counter (OTC) Orthotics, which I customize for my patient's needs, (especially kids as they outgrow orthotics so fast), to Custom Shoes, Foot Orthotics, Ankle Braces, Super Malioma Orthoses (SMO), and certain Ankle Foot Orthoses (AFO).  No problem is too complex. I've been helping people since last century (1999), and each year, it's more rewarding.
Joined Powell: 2011
Why I love working here: I love knowing I make people feel better, allowing them to return to their desired activities. I specialize in finding creative solutions for all foot & ankle related problems.
Passionate about: Doing what I've been called to do: help people feel better through improving their foot health, and running in Tough Mudder events (a crazy hard obstacle course).