Mary Buettner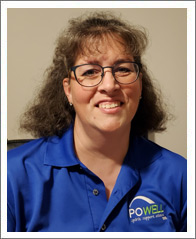 Patient Care Coordinator
My family moved to Virginia in 2019 after living overseas for 5 years due to my husband's job. I had the good fortune of my fresh start including employment at Powell. The majority of my previous employment was in medical transcription, where I was very much behind the scenes. Working at Powell in the front office with terrific staff, interacting with wonderful patients and seeing the Spirit, Support, and Science carried out on a daily basis has been a very rewarding experience.
Joined POWELL: 2019
Why I love it here: My fantastic office co-workers, dedicated practitioners, and amazing patients!
Passionate about:  Helping people, spending time with my husband and three children (as well as our cats - Reeses, Oreo, and Buckeye), traveling, and cooking/baking/eating!