Lisa I. Wright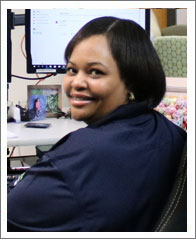 Patient Care Coordinator
I say if you wear a smile everyday others can see the sunshine that you carry, so I love meeting and greeting the patients that we serve as well as the staff I work with. Working in the orthotics and prosthetics industry is a passion of mine because I became an amputee when I was 7 years old. I am also the CEO of Shu Fli Amputee Connections and I get to help a lot of amputees with my company. I collect new and gently used shoes and give them to amputees all around the world. Shu Fli is blessed to help men, women, boys, and girls to find their sole-mate. My business motto is "Connecting feet around the world one sole at a time".
Joined POWELL: 2017 
Why I love it here: I find joy in helping others and making a difference in the world.  I also like being the Amputee Support Group Meeting Coordinator.    
Passionate about: I love traveling, singing, and spending time with my family and friends.