Anna Seibert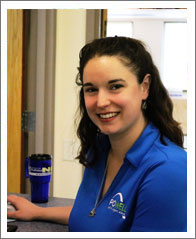 MSPO, Orthotics Resident
I am a recent graduate of the prosthetics and orthotics masters program at the University of Pittsburgh. Before I moved to Richmond to join the Powell team, I enjoyed a fantastic clinical externship experience working with our wounded warriors at Walter Reed NMMC, as well as completing a surgical shadowing internship at UPMC Shadyside Hospital where I had the immense privilege of witnessing osteopathic reconstruction and osseointegration surgeries with Dr. Richard McGough. I strive to contribute to the promotion of our field through practitioner-led research and my work has recently been presented at the 2019 PA-AAOP Pennsylvania, Maryland, Virginia, and DC Regional Chapter Meeting as well as at the national 2019 AAOP Annual Academy Meeting and Scientific Symposium.  My research -which involves social media content analysis- was the first study of its kind in the field of O&P.  I have enjoyed these opportunities to represent Powell in the larger O&P community, and I look forward to continuing to make a positive impact on the lives of our patients here in RVA. 
Joined POWELL: 2018
Why I love it here: My husband was in the Air Force for years, and consequently we have lived all over the place, but Virginia is home for me and Powell brought us home.  I am excited to put my education and hard work to practical clinical use, and to continue to learn from the incredible practitioners who surround me at Powell.  My favorite part of working here though is definitely our pediatric patients!  At Powell, our orthotics department sees more pediatric patients than any other O&P practice in the area, and I love working with kids and having the opportunity to work with their parents and family members as part of their clinical care team. 
Passionate about: My incredible daughter, my wonderful husband, and of course Virginia Tech athletics!  GO HOKIES!!